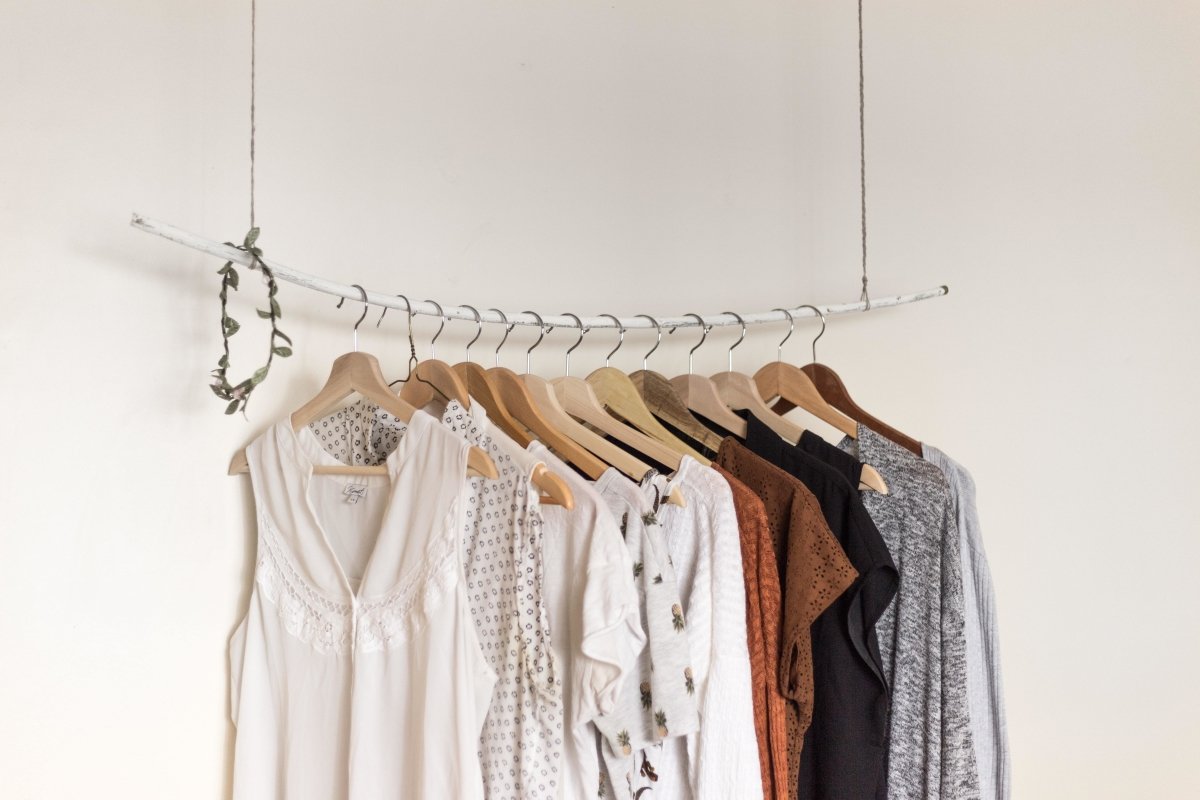 What is a Capsule Wardrobe?
The minimalism movement is nothing new, but as there is a growing awakening to the effect our consumerism has on the greater whole as well as ones own sense of wellbeing more people are taking part. Shedding belongings, gaining time, and feeling at peace, are just a few of the reasons many people transition from maximalism to minimalism.
But minimalism takes work. The beauty of simplicity starts with the actual act of simplifying. And for most of us, that starts with our wardrobes.
Many of us struggle with our spending, and oftentimes it's because we spend so much on the latest trending clothing items. Yet even though our closets are overflowing, we have nothing to wear.
And that's because everything's just a trend. It's not an item you truly love and value, so putting together an outfit you're happy with seems impossible because you're not genuinely happy with most of the clothes you own.
Fashionistas may cringe though at the idea of getting rid of all of their clothes and sticking to the basics. How are you supposed to express yourself if you can't update your wardrobe as your own creativity and fashion sense changes?
That's where the capsule wardrobe can change the way you think about fashion.
What is a Capsule Wardrobe?
A capsule wardrobe is actually a very simple way of organizing your clothes so that you have a small collection of items that you absolutely love. 
These items are versatile and complement each other so it's easy to mix-and-match pieces. We all know the feeling of standing in front of our closet for 10 minutes trying to pick out just one outfit. Having a capsule wardrobe makes getting dressed so much easier and way less time consuming. 
Capsule wardrobes also often change with the seasons, accommodating the change in weather and giving you the opportunity to update your pieces to reflect the style you'd like to cultivate that season. 
But why only shop 4 times per year? The idea here is that by reducing how frequently you go shopping, you reduce the chances of purchasing items that you don't end up really loving. Scheduling time throughout the year to go shopping can help you only select pieces that you can actually picture yourself wearing for the next 4 months until your next shopping trip. It makes the shopping experience more mindful.
As for the number of items in your capsule wardrobe, this is completely up to you. Most capsule wardrobes stay between 30 to 40 items. But realistically, you can go less than 30 and over 40. It all depends on your lifestyle and what would work best for you.
So how do you create a capsule wardrobe?
Break it Down
Luckily, there are a ton of resources online to help you customize your own capsule wardrobe. There aren't really any rules, but it's nice to have some guidance when you're a beginner. 
The first step to creating a capsule wardrobe is to narrow down the items in your closet. There may be an immediate urge to purge everything, start from scratch, and go shopping. But then starting a capsule wardrobe becomes just another reason to shop, instead of a reason to reduce and simplify. For both your wallet's and the environment's sake, it's better to be mindful about what you already have.
Go through your pieces and evaluate which ones you love the most and find yourself wearing very often. If you've barely worn a piece for months, then it's probably better to get rid of. 
Here are some things to consider:
Where do you normally wear your clothing? Do you work from home? Do you work in a formal office? Do you attend a lot of events? Your lifestyle will largely determine the types of pieces you're going to need in your capsule wardrobe. Of course, you'll need pieces that'll accommodate lounging, date night, office wear, etc. But knowing how much of each of these pieces you'll actually need will help you in evaluating your current wardrobe.

Your capsule wardrobe should consist of tops, pants, shoes, etc., but not miscellaneous items like pajamas, activewear, and undergarments. You can pare these down as well, but miscellaneous items don't typically change as much with the seasons. These can be kept separate from your capsule wardrobe.

How well does your clothing fit? Is it worth getting the piece tailored or would you prefer replacing it with something that fits you better? You should feel confident in yourself, and clothing that is too small or too big doesn't lead to a very flattering and comfortable wardrobe.

While sorting through your clothing and adding items to your capsule wardrobe, consider how well these items go together. If nothing matches each other, you'll end up with a very chaotic looking wardrobe. For the wardrobe to last an entire season without giving up your creativity, you should be able to easily mix-and-match pieces and create entirely new outfits.

Once you've selected your pieces, you can responsibly donate/sell the rest. If you're hesitant to get rid of a bulk amount of clothing, store it away for the season and see how you do wearing just the items in your capsule wardrobe.
This process of cleaning out your closet will make you feel refreshed and will give your capsule wardrobe a good starting point, making it easier to put together if there's anything left that you need to go and purchase.
NOTE: At the end of each season, you don't have to get rid of all of your clothes from the previous season. In the summer, put your winter coats in storage and see how you feel about them the next winter season. This will reduce your waste and also help you cut spending when you do your quarterly shopping trip.
Make it Your Own
While there are numerous tutorials online on how to create the most stunning capsule wardrobe, don't take the rules too seriously. The idea is to simplify your life, not to overwhelm yourself about what stays and what goes. Creating a capsule wardrobe and transitioning to a more minimal lifestyle should be enjoyable.
Everyone's lives are going to be a bit different from your own, and if you spend too much time focusing on what other people are doing, you're going to miss out on what really matters to you. 
If someone says to keep a set number of workout pieces, but you exercise often and love wearing leggings and yoga shirts as your everyday work-from-home outfits, doesn't it make more sense to keep more of those pieces? Don't get rid of your essential items just because you feel like you have to. At the end of the day, it's your capsule wardrobe! You can do whatever you want with it.
eleven44 Has Your Capsule Wardrobe Needs!
The foundation of eleven44 is ethical, minimalist basics for your capsule wardrobe. All of our pieces are made of eco-friendly materials, such as bamboo and organic cotton, and are made with versatility in mind so your outfit creativity never ends. 
We have gorgeous pieces year-round as you change out the items in your wardrobe. But is there anything missing right now while you're getting started?